Regular price
Sale price
$40.00 USD
Unit price
per
Sale
Sold out
Herb & Mineral Mist contains over 98% cold water soaked herbs that can act systemically as well as have a direct effect on the skin. It acts as a carrier vehicle for the oils and crème into the skin. The mist is an essential part of the DMK SkincareTM Home Prescriptive regime.

Herb & Mineral Mist is a polarized spray which aids in transepidermal delivery, infusing a
multitude of vitamins, minerals, trace elements and water. This could be thought of as the
"vehicle" that carries the nutrients.
Key Ingredients

Kelp (macrocystis pyrifera) – One of the highest sources of minerals and vitamins and essential amino acids.

Potassium – A very important mineral for the proper functioning of all cells and tissues. It is also an electrolyte substance that conducts electricity in the body.

Alfalfa (Medicago Sativa) – A rich source of various vitamins and minerals like vitamin B1, B6, A, C, D, E, K and minerals like calcium, potassium, phosphorus, magnesium, zinc and antioxidants. Promotes absorption.

Sarsaparilla – Rich in flavonoids, plant sterols and saponins.

Blackcohosh (Oimincifuga Racemosa) – Contains the anti-inflammatory Salicylic Acid that helps with wound healing and anti-inflammatory activities.

Saw Palmetto (Serenoa Repens) – Suppresses DHT production.

Liquorice (Glycyrrhiza Glabra) – Stimulates skin's natural immune defense.

Sage (Salvia Officinalis) – Balances sebum production, anti-inflammatory and anti-septic.

Mullein Extract (Verbascum) – Natural skin anti-biotic and anti-irritant.

Fenugreek (Trigonella Foenum Graecum) – A herbal extract used to reduce inflammatory conditions such as eczema, acne and sunburn.

Hops (Humulus Lupulus) – Contains super antioxidants which act as a calming agent for the skin. It is one of the best sources of vitamin C and a rich source of natural protein. It is also a natural astringent which will minimize the appearance of skin pores.

Peppermint – Contains vitamins and minerals.
Has a cooling effect on the skin.

Capsicum Frutescens Fruit Extract – Catalyst
for other herbs, improves circulation.

Sodium Ascorbate – Polarized vitamin C.

Rose Water – Skin conditioning, rich source of vitamin C, promotes healing and skin regeneration.
At Home Instructions

can be used after cleansing and after serums and oils for the transepidermal delivery of DMK creams. Can be sprayed over makeup.
View full details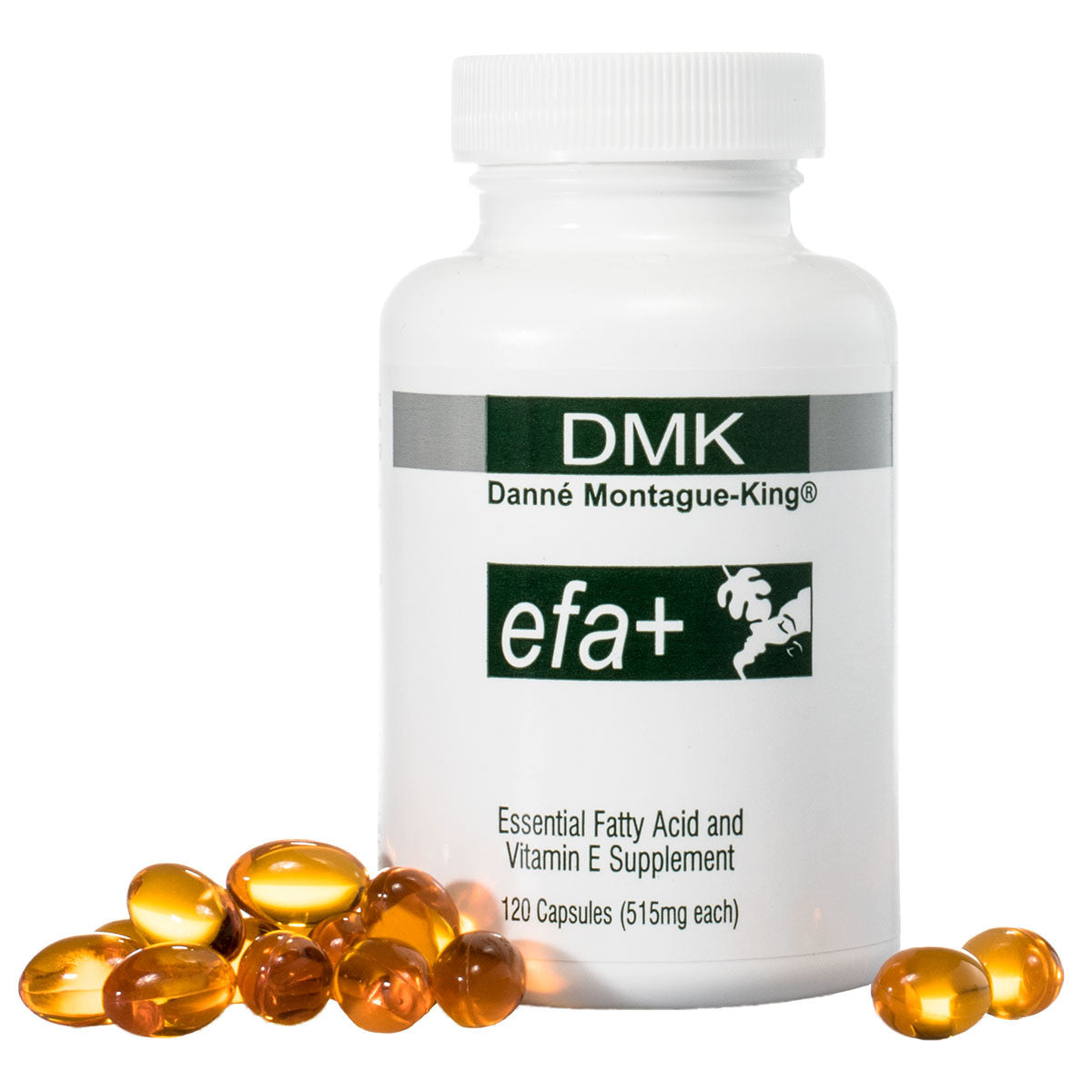 Include this to speed up your skin revision
DMK'S efa+ supplements provides the best and most precise blend of essential fatty acids 3,6, and 9 which are not produced by the body but are necessary for the body to function properly. Formulated with active titan elements like seabuckthorn oil and Primrose Oil, this supplement helps regulate cell functions and are beneficial for those with hormone imbalances.
Although everyone can benefit from this supplement, this is especially recommended for clients with eczema, psoriasis, contact dermatitis, acne, and anyone suffering from dehydrated and aging skin.
Free Shipping

When you place an order over $150 , You will recieve free domestic shipping!

Hassle-Free Exchanges

Product not what you expected? We will exchange any unopened or unused product free of charge!
Find out why these are our best sellers...